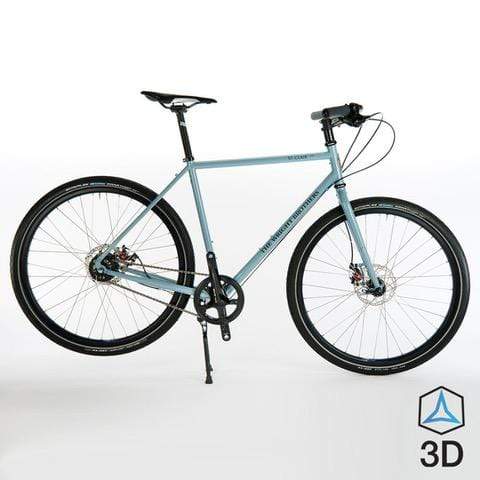 St. Clair® 1896 Alfine 8 adventure bicycle
Details
The Wright Brothers® St. Clair® 1896 Alfine 8 adventure bicycle
Collection:
Wilbur & Orville Collection
The Story:
Originally manufactured by Wilbur and Orville Wright in 1896 using the highest-quality parts and materials, the St. Clair was built to pay homage to Arthur St. Clair, the first governor of the Northwest Territory, which later became Ohio, Indiana and Illinois. The Wright Brothers Cycle Company has brought this classic creation back into production, now using the most advanced bicycle technologies available, just as Wilbur and Orville would have done.
Please call our shop at 937.223.7500 (or email at Info@TheWrightBrothersUSA.com) and ask for "Professor Bike." We are happy to address any questions that you may have and assure that your bike is best fitted to your preferences.
The St. Clair 1896 is built to order. Please allow three months for delivery.
Hailing From:
The United States of America
Features:
Featuring the same painstaking care and precision, Co-Motion builds each St. Clair 1896 model by hand in Eugene, Oregon. They use their uniquely designed Reynolds 725 heat-treated, double-butted, Cro-Moly tubing to make each frame and fork to exacting standards that have been developed over three decades of pursuing perfection. In fact, it is the same frame down to the bolted right seat-stay to drop-out junction that allows you to upgrade to Gates Carbon Drive.
Although our pricing goals mean that many of the premium, U.S.A. parts are not featured on the St. Clair 1896 model, we have chosen tried-and-true parts from around the world that maintain the spirit of adventure and innovation in every bike we make.
Notably, Velocity rims and wheels are maintained on these bikes, built in Grand Rapids, Michigan. First produced in Brisbane, Australia, the rim production moved to Jacksonville, Florida in 2012, but in December 2016 rim production has joined the wheel building department in Grand Rapids.
Shimano Alfine 8 internal hub gearing is designed by the innovative engineers in Japan. Based on multiple planetary gear sets in an oil bath, creating 8 distinct gear ratios that span an overall range of 306%.
SRAM, a Chicago-based company, makes the Avid BB5 brake in several parts of the world. The BB5 set the standard for a powerful, easily adjustable, long-lasting, mechanical, disc brake with easy-to-change pads. SRAM also makes the 850 drive chain, a noted chain standard around the world.
FSA makes the stem and sealed bearing headset. This Taiwanese company is a leader in quality, original equipment bicycle parts.
Race Face designs and test their innovative, high-quality parts in the wilds (city and mountains) of Vancouver, B.C., Canada. The Ride XC seat post can take all the adventure you can throw at it.
Details:
Accessory mounts: 2 water bottle mounts, rear rack mounts, front low-rider mounts, front and rear fender mounts
Bottom bracket: Co-Motion eccentric with Shimano external bearing cartridge
Brakes: Avid BB5, 160 mm rotors, 6-bolt front, center-lock rear
Crankset: Shimano Alfine, 170 mm arms, 39t chainring
Drive: SRAM 850 chain
Fork: Co-Motion taper-gauge Cro-Moly with CNC steerer (U.S.A.)
Frame: Co-Motion-designed Reynolds 725 heat-treated, double-butted, Cro-Moly tubing (U.S.A.)
Front & rear dérailleurs: none
Gears: Shimano Alfine 8, internal rear hub gearing, 8 speeds
Grips/tape: ESI Extra Chunky silicone grips (U.S.A.)
Handlebar: Co-Motion/FSA city bar
Headset: FSA Orbit X 1-1/8", Black
Kick stand: 2-leg center stand
Levers: Avid flat bar levers
Pedals: none
Saddle: Selle Italia Nekkar Flow
Seatpost: Race Face Ride XC, straight, 27.2 mm diameter, Black
Shifter: Alfine 8 Rapid Fire
Stem: FSA Gossamer, 100 mm , 6 deg, Black
Tires: Schwalbe Marathon 650B x 42
Wheelset: DT 350 Disc front hub/Velocity Dyad rim 650B; Shimano Alfine 8 rear hub/Velocity Dyad rim 650B (U.S.A.)
Specifications:
Weight:  

26.4 lbs

Dimensions:  

70 x 9 x 40 in

Color:  

Graphite Blue

Size:  

46 cm, 50 cm, 52 cm, 54 cm, 56 cm, 58 cm, 60 cm, 62 cm