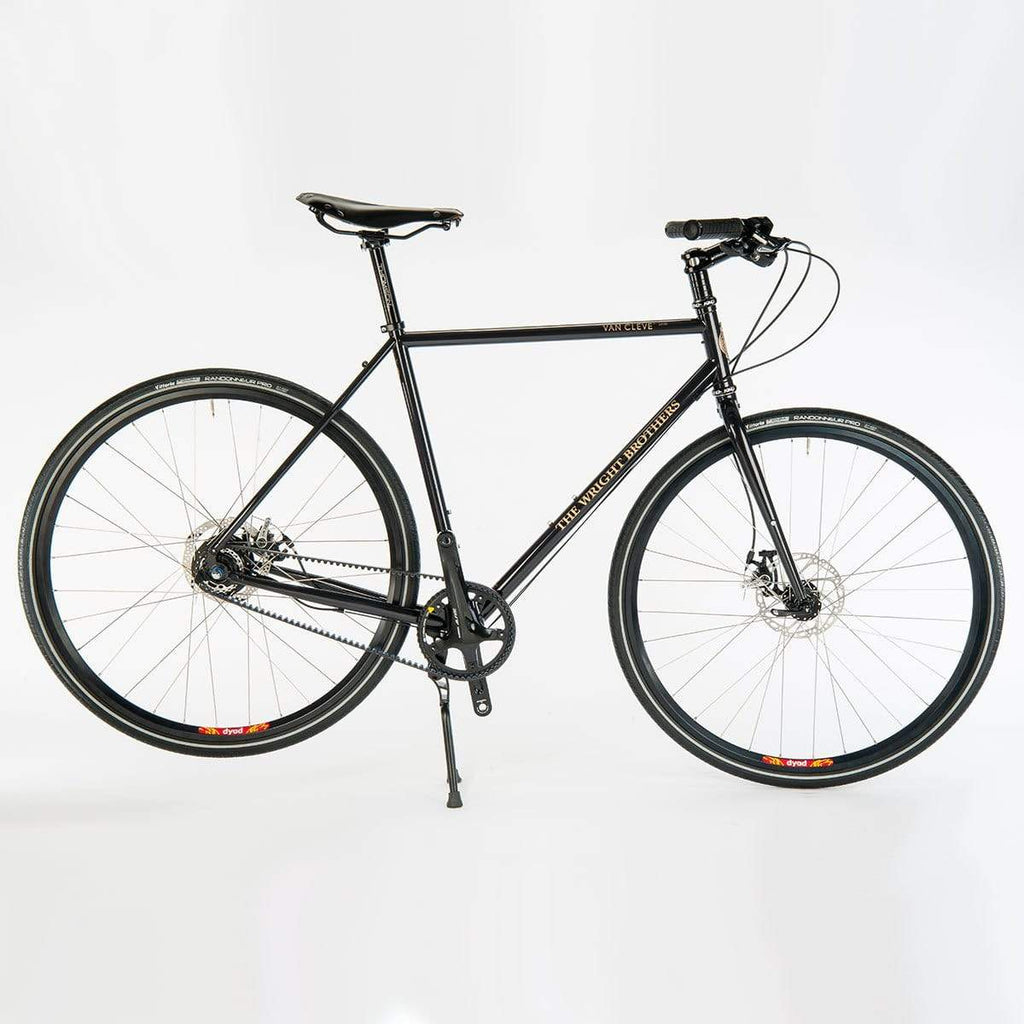 Van Cleve® 1896 Alfine 11 adventure bicycle
Details
The Wright Brothers® Van Cleve® 1896 Alfine 11 adventure bicycle
Collection:
Wilbur & Orville Collection
The Story:
Originally manufactured by Wilbur and Orville Wright in 1896, the Van Cleve was their top-of-the-line model and took its name from Wilbur and Orville's ancestors and first settlers of Dayton, Ohio.
Inspired by the meticulous craft that went into the original Van Cleve, The Wright Brothers® Van Cleve® 1896 Alfine 11 bicycle sports such innovative features as belt power drive, 11-speed internal rear hub and front & rear disc brakes—all specified for a reliable adventure ride.
Please call our shop at 937.223.7500 (or email at Info@TheWrightBrothersUSA.com) and ask for "Professor Bike." We are happy to address any questions that you may have and assure that your bike is best fitted to your preferences.
All bikes are built to order. Please allow three months for delivery.
Hailing From:
The United States of America
Features:
Some of the finest bicycle products in the world are made in the U.S.A. Our Van Cleve 1896 model includes these made-in-the-U.S.A. features:
Co-Motion builds each Van Cleve 1896 model by hand in Eugene, Oregon. They use their uniquely designed Reynolds 725 heat-treated, double-butted, Cro-Moly tubing to make each frame and fork to exacting standards that have been developed over three decades of pursuing perfection.
Gates Carbon Drive was developed in Denver, Colorado by the global leader in automotive and industrial drive belts to bring quiet, clean and durable drive to high-performance bicycling.
Chris King headsets are made in Portland, Oregon to the highest standards of design, CNC machining and assembly (including the sealed, angular contact bearings) to make a headset that carries a 10-year warranty.
Thomson posts and stems have been made in Macon, Georgia bringing durability, value and performance to high-end bicycle parts through many innovative patents and designs.
Velocity rims and wheels are built in Grand Rapids, Michigan. First produced in Brisbane, Australia, the rim production moved to Jacksonville, Florida in 2012, but in December 2016 rim production has joined the wheel building department in Grand Rapids.
Selle Anatomica says, "We make the world's most comfortable leather saddle. Period." Fully made in America from parts sourced in Wisconsin and assembled in San Diego, California.
Some of the unique parts are not available from U.S.A. sources, but are key to meeting our goals of adventure and innovation.
Shimano Alfine 11 internal hub gearing is designed by the innovative engineers in Japan. Based on multiple planetary gear sets in an oil bath, creating 11 distinct gear ratios that span an overall range of 408%.
TRP makes the Spyre brake in Taiwan to precise tolerances. The most critical innovation is its actuation of both left and right brake pads symmetrically. This improves braking, ease of set-up and durability over most mechanical brakes which move only one pad that bends the rotor into contact with the other, stationary pad.
Details:
Accessory mounts: 2 water bottle mounts, rear rack mounts, front low-rider mounts, front and rear fender mounts
Bottom bracket: Co-Motion eccentric with Shimano external bearing cartridge
Brakes: TRP Spyre, PM front, 160 mm 6-bolt rotor; TRP Spyre, IS rear, 160 mm center-lock rotor
Crankset: Shimano Alfine 170 mm arms with Gates CenterTrack 39t front sprocket (U.S.A.)
Drive: Gates Carbon Drive CDX belt 118t (U.S.A.)
Fork: Co-Motion taper-gauge Cro-Moly with CNC steerer (U.S.A.)
Frame: Co-Motion-designed Reynolds 725 heat-treated, double-butted, Cro-Moly tubing (U.S.A.)
Front & rear dérailleurs: none
Gears: Shimano Alfine 11, internal rear hub gearing, 11 speeds
Grips/tape: Co-Motion/Lizard Skin lock-on grips, Black
Handlebar: Co-Motion/FSA city bar
Headset: Chris King NoThreadSet 1-1/8", Black (U.S.A.)
Kick stand: 2-leg center stand
Levers: Shimano flat bar levers, road pull
Pedals: none
Saddle: Selle Anatomica X1, Black with gunmetal rivets (U.S.A.)
Seatpost: Thomson Elite, straight, 27.2 mm diameter, Black (U.S.A.)
Shifter: Alfine 11 Rapid Fire
Stem: Thomson Elite, X2, 100 mm, 10 deg, Black (U.S.A.)
Tires: Vittoria Randonneur Pro 700 x 35
Wheelset: DT 350 Disc front hub/Velocity Dyad rim 700c; Shimano Alfine 11 rear hub/Velocity Dyad rim 700c (U.S.A.)
Specifications:
Weight:  

24.2 lbs

Dimensions:  

70 x 9 x 40 in

Color:  

Metallic Black

Sizes:  

46 cm, 50 cm, 52 cm, 54 cm, 56 cm, 58 cm, 60 cm, 62 cm